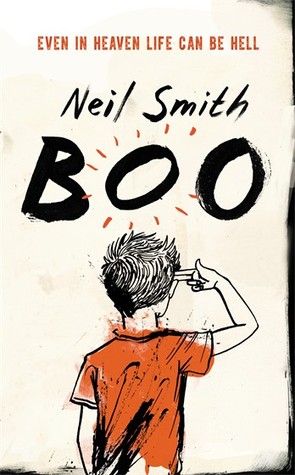 "The sky used to be bluer in my day," says the old man. "But it is your day," I reply. "You aren't dead yet."
I received a review copy of this book in return for an honest review.
Thirteen year old Oliver "Boo" Dalrymple got his nickname at school due to the ghostly colour of his pale skin, and his white-blond sticky-up hair. He is now having an opportunity to live up to his name as he is quite suddenly dead.
"I died in front of my locker at Keller Junior High on September 7, 1979," he tells us.
Boo wakes up in Town. Town isn't much of a heaven. Only thirteen year olds that have died in America inhabit his particular Town, but some of the thirteen year old inhabitants have been thirteen for decades – apparently you rebirth after 50 years.
Boo has always been a little 'different'. He never made friends easily, his social skills were never the greatest, he has a habit of voicing the inappropriate, but his IQ is superior for his age. Town is both a disappointment (it's much like America but with less stuff) and a wonder (people and buildings can 'fix' themselves when they are broken).  So, Boo spends time getting to know his fellow Townies, conducting his own experiments, and trying to work out how he died, which he believes is due to his heart defect.
However, when he discovers a fellow student from his school, Johnny,  who tells him that they were actually both murdered – and that their murderer, the mysterious Gunboy who he only sees in his nightmares, killed himself too, so is probably in Town somewhere.
Boo and Johnny decide to track down Gunboy and demand answers – but are either of them ready for the truth and its own consequences?
I loved the idea behind this book, although some of the details were a bit odd. A Town full of just thirteen year olds? All I kept thinking was that they were actually growing old and well into middle-age and probably falling in love – and then, well, wouldn't they be wanting to have sex? And that would just be totally weird!
Surprisingly, even though the book starts off with a dead kid, it took me ages to get into it. Boo isn't exactly the easiest character to like, and Town just seemed so…normal.  There was a lot of description about how things were, but there was so little that was fantastical (and perhaps that was just the point) that I kind of switched off through a lot of the text.
But after a slow start, the middle to end was far more interesting and it became quite a page turner for a while.  I loved the ideas more than the actual book, but it was an easy, unusual story that I'm glad that I read.