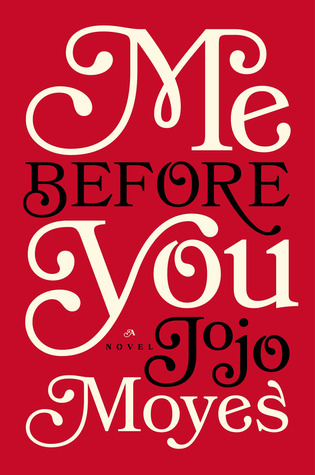 Lou Clark suddenly loses the job that she loves, and her family situation means that she is forced into taking the first suitable role that comes along. This happens to be as a carer for Will Traynor. A young man who has been left as a paraplegic following a motorbike accident.
Lou discovers that she wants to help Will recover his zest for lie, however, Will has something completely different planned.
THERE WILL BE SPOILERS!!!
I'm not really sure where to start. I got this as an audiobook and the narration was absolutely spot on.  I think the main narrator (Lou's voice) was Jo Hall, but that's just from the order in which they were listed. She was natural, sounded the right age and exactly how I would've expected Lou to sound – brilliant for an audiobook!
However,by no fault of the narrator, I simply didn't like Lou. The character seemed juvenile, selfish and completely oblivious to the real world.
The situation also felt completely unreal with a rather awkward shift between scenes sometimes. I found it a little odd that someone with no experience of caring for anyone at all (especially someone who seemed so self-obsessed and uncaring) could be left in charge of someone with such needs, with no training at all.
If you took out the fact that Will was a paraplegic, it was a very very bog-standard "Girl is wasting her life away without even realising she's wasting her life away, doing nothing, and with a boyfriend who takes her for granted MEETS egotistical, snobbish tosser who was a tosser before he went through a life-changing event, and is now a tosser for a completely different reason. Together they manage to smooth / rough each other's edges and realise that life isn't that bad after all."
The only difference was the immense difficulties in the life of a paraplegic, and how it affects those around them, and eventually, the right to die if that's what they choose.
Personally, that was the most interesting part of the story, and yet the least explored. It was all about Lou's shallow feelings, and falling in love with Will and dealing with HER grief.  For me, it kind of made the actual deep crux of the story feel unimportant, and almost belittled.
However, I will admit, I know that I am in a minority. Almost everyone I know that has read this book says that it is a total must-read, a wonderful book and an absolute tear-jerker. As someone who cries at almost everything, I was expecting to be almost bed-ridden with grief for a few days, but as it was I just felt rather cross.
I fully expect to suffer a barrage of abuse for my review.
If you want a fluffy chick-lit rom-com with a slight edge to it, this is for you. If you want a perceptive glimpse into dealing with someone who wants to exercise their right to die, and the effect that it has on those around them, I would suggest looking elsewhere. Apparently there is a film about to be made too.