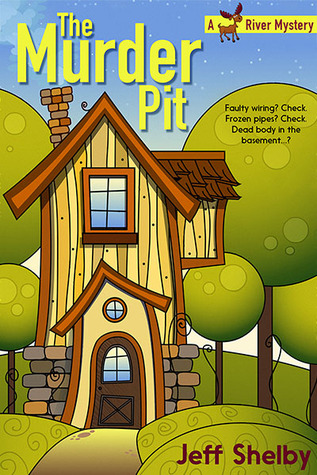 I received a review copy of this book in return for an honest review.
Daisy Savage is living the real life Brady Bunch dream. She's back with her high school sweetheart, very much in love and their respective families (her two girls and a boy, him one girl) get along great. They've also bought a beautiful old house in her hometown that she has been completely charmed by, even though it is more than a century old, with all the problems that come with that.
The problem that she didn't expect to come with it though is a dead body hidden beneath it.  What's more, the body turns out to be of someone that she knows. Even worse, it becomes clear that her fellow citizens of Moose River seem to believe that SHE is the prime suspect.
Can Daisy find out what happened and clear her name?
This is an extremely light read – there's not a lot of brain power that needs to be invested into it, which is obviously quite a relief sometimes after harder reads (I was also reading a book about a murdering paedophile, so the lightness and humour was rather inviting!)
Daisy has a strong voice, and is a very likeable realistic character, as is her husband Jake and a couple of the lesser cast members that we meet along the way. However, other than the son (for obvious reasons), the children kind of merge into one.
I liked the coziness of Daisy's relationship, which fit in will with the 'coziness' (read 'unbearable closeness') of living in a small town – where everyone knows everyone, and everything that have got up to with everyone else. Where people jump to conclusions, and cast their own judgement without any evidence.
To be honest, the actions of her fellow townsfolk didn't really ring true to me. There was far more accusation and blaming than I personally would have expected. I'd have thought a murder would have brought everyone out and gossiping, and trying to get closer to the limelight.
Of course, Daisy wanting to clear her name was her motivation for 'solving the case' – but I think the absolute ostracism felt far less believable than finding a corpse while trying to deal with your frozen pipes.
However, it was quick, light and easily enjoyable.